---
In September 2015, 193 world leaders signed up to the UN's Global Goals initiative. This set out 17 development goals across those countries based around three key themes: ending extreme poverty, fighting inequality and injustice, and fixing climate change. To help build awareness around this Glug invited 17 designers to create a poster around one of the goals each.
I was asked to reflect on the goal 'Sustainable Cities and Communities'.
---
Year 2015
---
Client UN's Global Millenium Goals and Glug
---
Credits Cutlasercut London, laser engraving production
The design
My final poster seeks to widen the lens on our approach to sustainable cities, referencing the 1970s literary investigation of Italo Calvino. In his Invisible Cities, the author represents the complex ecosystem of urban civilisation through the journey of Marco Polo who is reporting back to the emperor on the human-led rationale for different city-types. Readers are travellers, armed with a map, but no set itinerary.
The nonlinear representation of relationships reinforces the nuance required to address sustainability. Universality and timelessness persist in an elegant meditation on human networks, consumer culture, and societal experience.
The examination of the inter-relatedness of structural and human requirements has the potential to provide a cost/benefit path based in equity.
The process
The final poster is a laser engraved print on River BFK 300GSM 100% cotton paper.
The engraving process allows for a double connection to the subject matter. A city skyline becomes invisible when printed with 'no ink', and it reinforces the idea of sustainability. Rather than adding material to the paper, the paper is here used as a sculptural medium. By reducing the amount of material, lines, shapes and cities take form. We must consistently seek new processes, ideas and forms to shape our cities and our future lives.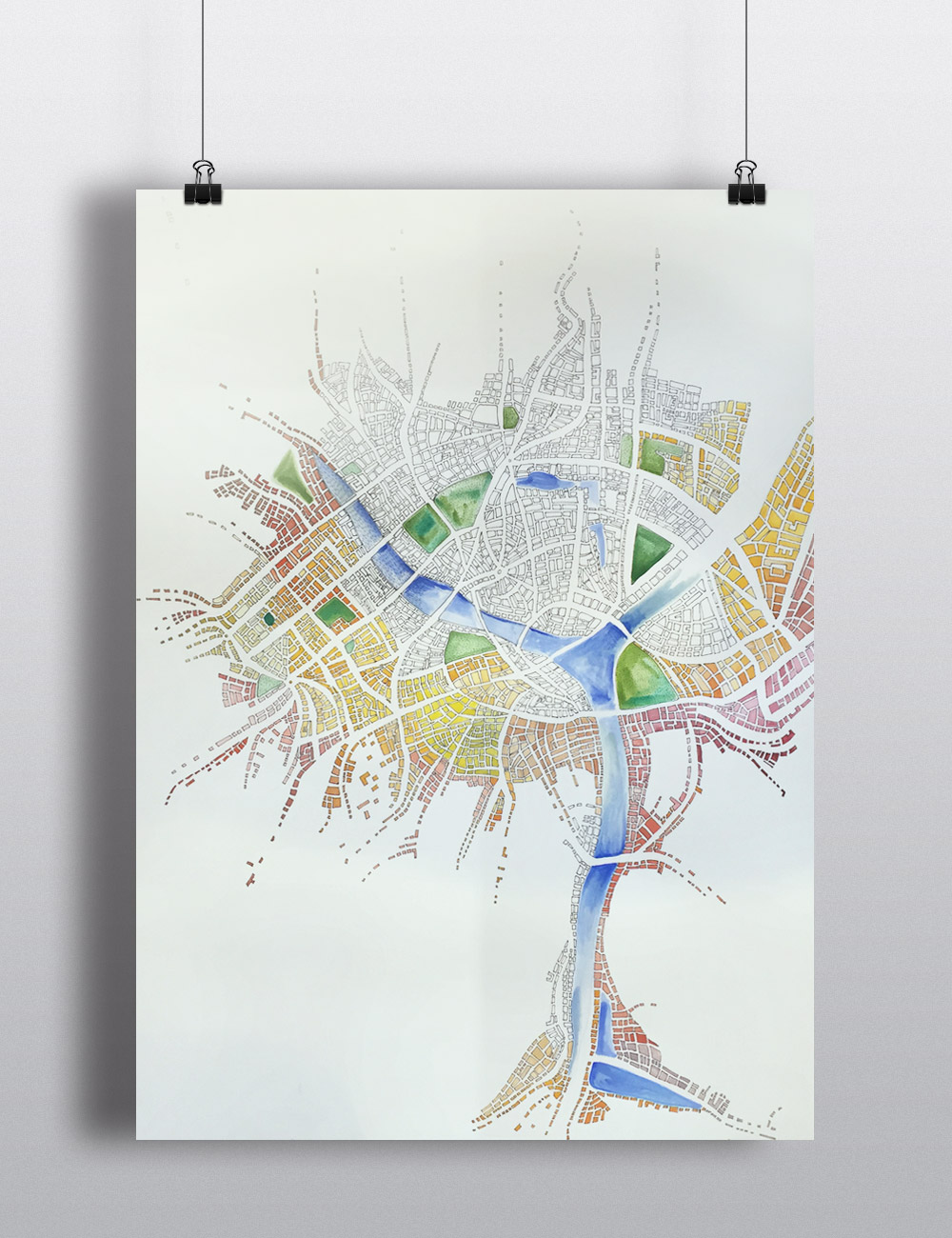 City tree
Prior to focusing on Italo Calvino's book, I explored a different route. The initial idea was based on a simple iconographic image: a city map shaped as a tree.
Cities are living organisms, constantly changing. Similar to a tree, a city needs to be nurtured in order to grow and expand.